Briefing about Sri Sri Bandana Puri Devi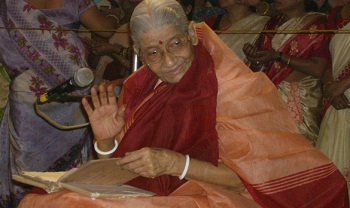 Sannyasini par excellence, Sri Sri Gauri Puri Devi, the ascetic disciple of Avatar-Baristha Sri Sri Ramakrishna Paramahansa Deva, the founder of Shri Shri Saradeswari Ashram and Hindu Balika Vidyalaya, urged upon Stayendra Nath Mukhopadhyaya, a gentleman and well-to-do Brahmin family of Dhakuria, South Kolkata, to confer her second daughter as her guru dakshina(fees) on completion of his initiation, even not interviewing the girl till that date. The little girl of those days ultimately transmitted to the mother of said institution as Bandana Puri Devi on and from 29th January 1993.
Born on 9th May, 1925 (25th Baisakha, 1332 B.S.) at the age of six, she came to the Ashram in company of her father and was admitted as an ashtamite. Shi had the opportunity to be nurtured under the care of Sri Sri Durga Puri Devi but also, especially, looked upon by Sri Sri Durga Puri Devi and Sri Sri Subrata Puri Devi, the then commanding-officers and were successively throned to the seat of mother of the Ashram.
The girl was initiated by Sri Sri Gauti Puri Devi at the age of seven and transpired to ascetic mendicant at the age of eighteen by Sri Sri Durga Puri Devi and designated as Bandana Puri Devi.
She attained post-graduate degree in Bengali literature from University of Kolkata. She was a great reader and had creative faculty on prose and drama and held natural instinct in fine arts.
She was also a great admirer of lyrics, poems and articles written by the Nobel Laureate Rabindra Nath Tagore. She had deep regard for the philosophy of synthesis of the religion preached by Thakur Ramkrishna and Universal Mother Sri Sri Saradamoni.
Sri Sri Durga Puri Devi, enchanted with her great softness, externally and internally from her girlhood day, called her "Phool Rani" – the queen of flower and in course of time that transpired to the devotees and disciples as a pet name "Phool Ma".
Keeping decisive influence as a Secretary vis-à-vis loving mother to the ashramites and devotees for long twenty-four years, she went in repose to "Ramkrishna Loka" on 13th July 2017 at the Nabadwipdham, the grace-land of Sri Sri Chaitanya Mahaprabhu.