Sri Sri Gauri Puri Devi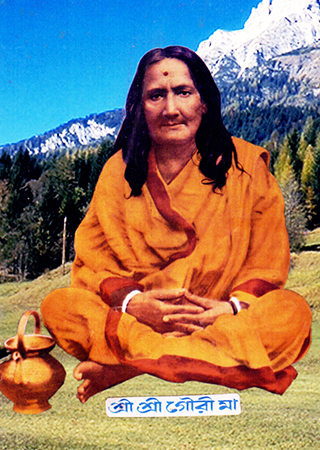 Sannyasini Gauri Puri Devi, the woman monastic disciple of Sri Sri Ramakrishna, founded the first "Nari Math" in 1895 following the line of thinking of Sri Sri Ramakrishna and His able container Sri Sri Saradamoni Devi, the Holy Mother. The Math had been dedicated by her to the name of "Universal Mother" and named "Shri Shri Saradeswari Ashram and Free Hindu Girls' School".
Gauri Ma (February, 1857 – March 1, 1938), named Mridani, was a prominent Indian disciple of Ramakrishna, a close companion of Sarada Devi. Gauri Puri Devi was living at Dakshineswar, Sri Sri Ramakrishna gave her the ocher robes of a sannyasini and made arrangements for the accompanying rituals. Sri Sri Ramakrishna himself offered a bilva leaf into the homa fire. After this ritual, he gave her a sannyas name Gauri Ananda. Sri Sri Ramakrishna usually called her Gauri or Gaurdasi, and some people called her Gaurma. But Gaurima was the name by which she was generally known.
Early life
Gauri Ma was born in Shibpur, Howrah, India in a well-to-do bramhin family of Bhowanipur, Harish Mukharjee Road, Kolkata in 1857. Honour'ble Parvaticharan Chattopadhyaya and Giribala Devi were her parents. He was initiated by Sri Sri Ramakrishna at a place called the Nimte-Ghola Kalabon at 24-Parganas(North). Even as a child she possessed a strong tendency toward Hindu spirituality. By her thirteenth year, Gauri Ma had developed a distaste for marriage telling her mother, "I shall marry only that bridegroom who is immortal," meaning she wished to marry Krishna and no other.
When Gauri Ma was a girl she had received from a 'Gopi' of Vrindaban a stone image of Sri Krishna. The 'Gopi' told her, "This image of God is my all in all and is alive with Divine energy. He has fallen in love with you, so I am handing Him over to you. My child, worship Him. He will do good to you. For the rest of her life she carried the stone image with her and served him lovingly.
In 1875 Gauri Ma left with relatives and neighbours to go on pilgrimage to Gangasagar. On the third day of her stay, she disappeared into a crowd of pilgrims, disguising herself as a sadhvi to evade recognition. She began travelling by foot to holy sites and monasteries through out India. During her years of pilgrimage Gauri Ma practiced severe austerities such as fasting, observing silence, and long hours of meditation. She also spent a great deal of time studying the Hindu scriptures.
Ramakrishna and Sarada Devi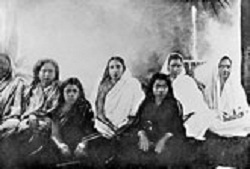 Gauri Ma lived as a companion to Sarada Devi, the wife of Ramakrishna, whenever she was at Dakshineswar. Gauri Ma also sometimes cooked for her Guru Ramakrishna, and sang to him. Ramakrishna had a very high opinion of her, declaring, "Gauri is a perfect soul – a Gopi of Vrindavan."
Ramakrishna encouraged Gauri Ma to settle down from her life of wandering ascetic and devote herself to working for the betterment of women in India. The women of India's plight was great, and Ramakrishna wished her to work to improve their education and development, both intellectually and spiritually. Gauri Ma protested, that she had neither the proper training nor education for such a feat. Ramakrishna replied, "I am pouring the water. You knead the clay." Swami Vivekananda echoed Ramakrishna's praise for Gauri Ma stating, "Where is Gauri Ma? We want a thousand such mothers with that noble stirring spirit." Gauri Ma was gently reminded by Sarada Devi, "The Master (Ramakrishna) said that your life was meant for serving women – the living goddess."