Sketch about Sri Subeda Puri Devi, the present Secretary of the Saradeswari Ashram: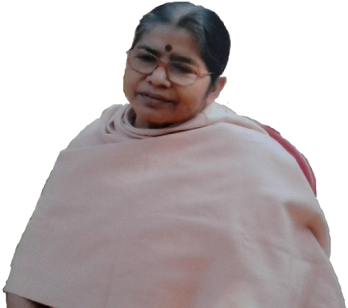 "The existence of Saradeswari Ashram will be so long till the Sun and Moon will rise" – this was the maxim of none but Sri Sri Durga Puri Devi, the seer. So the inevitable death of fourth Mataji even could not stop the flow of life of this Ashram.
To move onward continuously, the fifth Chief as been elected by the Trustee Board and Sri Subeda Puri Devi's public appearance as a Mataji of this Ashram occurred on 26th July 2017.
Sri Subeda Puri , the daughter of Promada Sanyal and Arunima Sanyal, was born on 27th February 1945 at her maternal house at Dakshineswar, the world famous altar of Thakur Sri Sri Ramkrishna Paramahansa Deva. Her home land was at Rajsahi, now at Bangladesh. In her childhood day, she was named as Bani Sanyal.
Her initial education started at Baranagar Mission School and there after she was admitted Acharya Prafulla Chandra Vidyalaya, Dum Dum, where she read upto Class VI.
She was admitted to class VII at Ashram's School "Shri Shri Saradeswari Ashram and Free Hindu Girls' School" as a border when she was only a little girl of 12 years only, i.e., in 1957. She was initiated by Sri Sri Durga Puri Devi. She passed the School Final Examination in 1962 from the Board of Secondary Education, West Bengal. Being a boarder, she was intimate with the life-style of the ashramites and took the decision of remaining at the ashram, practicing ascetical austerities. Her parents were not creating any barrier to her volition. Later on, she admitted that the spontaneous motherly love of Sri Sri Durga Puri Devi, the then Secretary of the Ashram, was also a stimulant behind her such decision. In 1970she took mendicancy from third Mataji Sri Sri Subrata Puri Devi. Her thorough devotion to acquire knowledge, she held the Bachelor of Arts Degree from the University og Kolkata in 1967. The urge if knowing, led her to the mastery of Bhagabat Gita and other Hindu scriptures.
She is a good singer, writer and searcher towards fine-arts and these qualities have been glowed with the inspiration of preceding mothers, Sri Sri Subrata Puri Devi and Sri Sri Bandana Puri Devi.
This much for the time being.