Shri Shri Saradeswari Ashram and Hindu Girls' School: Nabadwip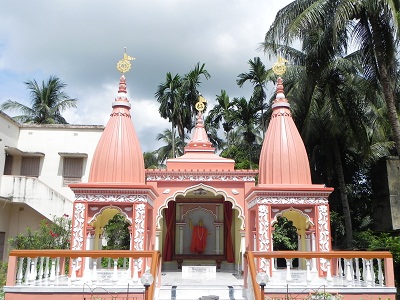 Nabadwip Ashram
In 1941 owing to fear of dreadful second world war ashram at Kolkata temporarily shifted to the gifted land of Rani's char by Sri Sri Durga Puri Devi by the side of the river Gangas at Nabadwip along with ashramites by constructing few thatcher rooms for their shelter. Thereafter, notification of advancing terrible destructive flood, a regular phenomenon of the area, she hurriedly transferred the in mates to a rented house at Nabadwip town. After all the cataslrophe being over, Sri Sri Durga Puri Devi decided not to wind up the Ashram and the school but to keep it as a permanent branch as a befitting memorial to revered Gaurima.
On availability of a donated land of about two bighas near "Mandir of Buro-Shib Thakur" construction work of the building was started. Much time had been consumed to finish the construction work due to paucity of fund. In 1950(1357 B.S.), newly house on being suitable for dwelling, Durgama installed formally a portrait of Sri Sri Saradamoni Devi and Holy 'Shila of Narayan – Sri Sridhar' in the newly built building and dedicated the same as "Gauri Niketan'. Formal inauguration of the branch could not be taken place due to inevitable circumstances. She projected expansion of Nabadwip branch in 1958 for providing additional accommodation of the inmates there.
Within the complex of the Ashram a "Meditation Hall" was constructed in 2003 after the name of Sri Sri Subrata Puri Devi. Further, the zeal of the devotees there, a three-storied building was constructed in 2007.The first floor of the building is dedicated in the name of Sri Sri Durga Puri Devi's Charitable Dispensary. Treatment of homeopathic, Allopathic and eye are carrying here by the renowned doctors of locality. The second floor have been utilized for the visitors guest house.
Beatification of the Ashram view also receive the primary consideration with flower gardens at the entrance way and plantation of tree on the vacant land surrounding the buildings