Shri Shri Saradeswari Ashram and Hindu Girls' School: Giridihi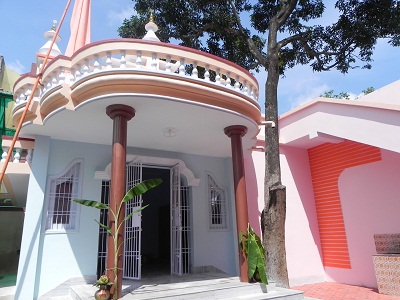 Ruinous and frightful communal riot broke out in August, 1946 at Kolkata and spread out all over the Bengal successively after the cessation of the Second World War. Shifting of the Ashram with inmates to a safer place outside Bengal were the then criteria. A suitable place in Bihar nearer to Kolkata had been searched for. Final choice came upon Giridihi (now under Jharkand state). Ultimately, Durgamata located the site, a half finished building on the road side at New Barganda receiving provendial direction of creation of an abode for Lord Vishnu. Durgama purchased the land with unfinished house measuring about 2 bighas area and given the name of the site as 'Sri Matri Niketan'. Further donation of two bighas land adjacent to the stated site had been completed along with construction of two rooms on the donated land too. Later, one merchant of Giridihi took initiative of constructing the girls' school within the campus of the Ashram shouldering the entire expenses. With the benevolences further expansion of the Giridihi Ashram were possible. The Ashram's land and campus are about six bighas and the entire area is protected with guard wall.
In 1947-48 (1355 B.S.), the 'Matri Niketan' at Giridihi was formally established by Durgama installing a God gifted Salgram Shila (symbol of Lord Vishnu) 'Sri Sri Madhusudan', one divine-gift of replica of Lord Jagannath, Balabhadra and Subhadra made of surplus piece of timber of 'Nava-Kalebar', portrait of Saradamoni Devi and few other idols. Durgama looked upon the Ashram at Giridihi as "Hidden Vrindaban".
There being no peripheral constraint, further project were launched there of which boldly mentionable 'Kamala Mata Charitable Dispensary' opened on 02-05-2008 manned by reputable doctors of various stream, a meditation hall after the name of 'Suchitra Mata Hall' opened on 08-09-2012. On 2013 Durgamata's Firm House upon the left-over barren land are another venture towards creation of greenish environment pleasing to the eye as well as production of green-stuff. In all sense, the ashram of Giridihi captivate the mind of visitors with its surrounding up and down contour, mountain range, water-falls, lake, flora etc.